About Invisalign | Pros and cons | Invisalign before and after | Cost | Candidate | Invisalign review | Invisalign vs braces | Treatment
If your teeth are misaligned, or crooked, you can get a beautiful smile by getting Invisalign braces. Contact Dr. Daniel Bronsky for Invisalign braces in Queen Anne Street, London W1. He is a top-rated Diamond Invisalign Provider in the UK.
If the social stigma of wearing wires and brackets of traditional braces is forcing you to postpone treatment, then you have an excellent alternative in the form of Invisalign removable clear braces. Made of high-quality near-invisible plastic material, it is one of the most popular treatments to straighten teeth in just a few months. All you need to do is consult an experienced orthodontist like Dr. Bronsky at Invis London to check if you're the candidate for Invisalign braces to correct your misaligned teeth. Unlike the £2000 to £7,000 cost of traditional braces, Invisalign cost ranges from £2000 to £5000, with average treatment cost of £3600 in London, UK.
Getting ready to straighten your smile, but confused about the number of treatment options available? Here is all you need to know about getting Invisalign, including suitability, cost, finance, and of course other teeth straightening treatment options:
About Invisalign
The efficacy of Invisalign braces in straightening teeth with maximum comfort and minimum self-consciousness is well known. Over 11 million people have benefited from Invisalign clear aligners and many more are in the process of getting straight teeth to smile with confidence. Besides aesthetic improvisation, Invisalign braces bring several other benefits to patients looking to correct dental deformities for better appearance. You are aware of the fact that the upper half of the face tells less about the age, but the lower third comprising the dental system says it loudly. So, if you are aspiring to look younger, only aesthetic dermatology isn't going to help much. You have to consult an orthodontist to make the frame of your face, comprising teeth and jaw, full and stable to avoid loss of volume in the lower face and control wrinkle formation.
You can enhance facial skin cosmetically with fillers or any other tweaks temporarily, but for a durable and effective anti-aging solution you have to consult an Invisalign specialist orthodontist like Dr. Daniel Bronsky.
According to Mintel statistics, 41% of people feel that their oral health is connected to their emotional health. With growing age, skin loses its natural elasticity as collagen level falls gradually and the same happens with the dental system, as weakening jaw and soft tissues trigger inward collapse of teeth, causing loss of volume in the lower face.
Dermatologist echoes what dentists say about the use of Invisalign aligners in reducing the appearance of sagging. The effectiveness of Invisalign aligners in straightening teeth is unquestionable, but it is as effective in controlling age-related facial skin loosening as it widens the smile, adds structure and support to the mouth. Most importantly, you can have a vibrant smile and no one will notice you wearing it as these aligners are meticulously designed to look transparent. The increasing popularity of Invisalign says it all about its effectiveness. No investment is too big if you could transform your smile to win hearts more effectively.
Pros and Cons
Pros
Exceptional dental aesthetics during the treatment as Invisalign is nearly invisible.
Free of worries of self-consciousness as there are no horrible-looking wires and brackets.
Custom-designed to ensure better fitting, thus maximum comfort.
It is removable, so you can eat whatever you wish and maintain your oral hygiene.
Compared to traditional braces, the duration of treatment is less and requires fewer visits to the dentist.
The better fitting ensures no sensitivity or speech impairment Invisalign.
Expert orthodontists can treat complex orthodontics cases with Invisalign; however, it is mostly used for moderate cases.
High customer satisfaction as they are getting more than expected in the minimum possible time. Treatment may be covered by insurance.
Cons:
Compared to traditional braces and other clear aligners, Invisalign costs more.
You might have to consult a dentist regularly to check the progress of teeth movement.
The cost of treatment varies depending on the complexity and number of aligners required.
Treatment time varies from patient to patient, which is fairly natural.
Some clinics charge for retainers and aftercare.
Invisalign Before and After Photos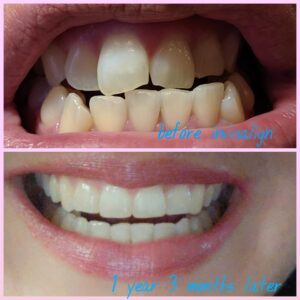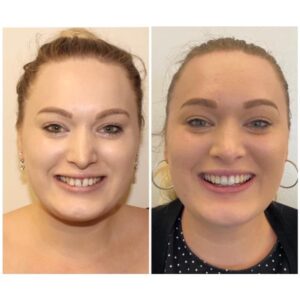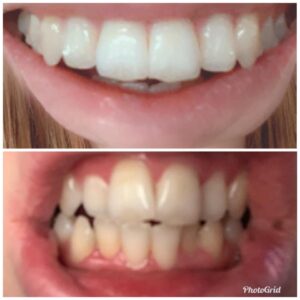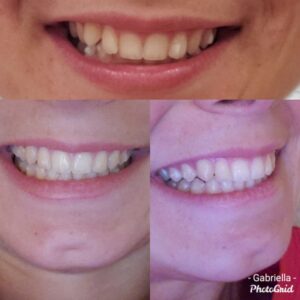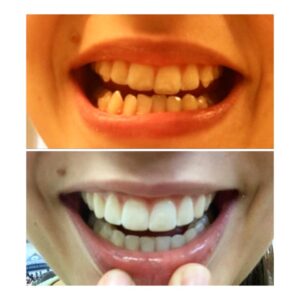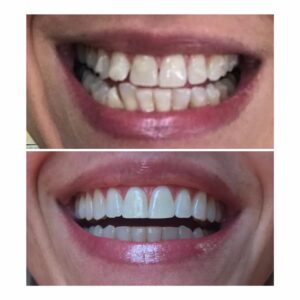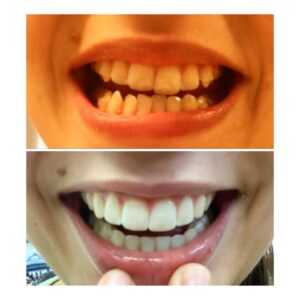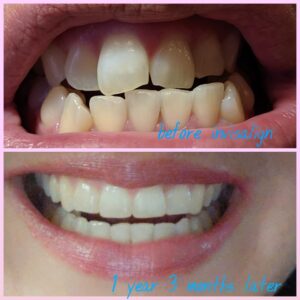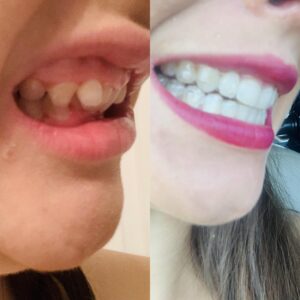 Invisalign Cost in London
Invisalign cost is between £2000 and £5000 in London. However, the cost could vary depending on the treatment plan.
An experienced orthodontist at Invis London, a BDA recognized dental practice will examine the suitability of Invisalign treatment first then suggest the most affordable option to correct your crooked teeth in the minimum possible time with maximum discomfort. Invis is unquestionably a great choice to bring misaligned teeth in alignment. You can have the lifelong perfect smile with Invisalign. Here are some of the factors that determine the cost of Invisalign clear braces.
Treatment Complexity
Clear braces in general and Invisalign clear aligners, in particular, are designed to correct dental misalignments of moderate complexity. However, an experienced orthodontist can use Invisalign aligner trays to treat even severe teeth and jaw misalignments. So, the cost of treatment could vary depending on the treatment plan as complex teeth movement takes more time and more aligner trays.
Dentist Experience
The cost of treatment could be lower with experienced Invisalign braces treatment providers as the manufacturer offers a discount of 40% or more on the Invisalign lab fee. However, it depends on whether the clinic passes these savings to their patients or not. Since the competition is intense, you can bargain for some discount, if your orthodontist is among the top providers. It is always better to compare the treatment cost of Invisalign treatment.
Location
The cost of Invisalign varies depending on the location of your dental clinic.
Retainers and Aftercare
Invisalign moves teeth effectively, but it takes time for teeth to stabilize in the new position. If not supported with retainers, it could move back to the old position. Several clinics exclude the cost of retainers from the treatment cost, so you should better discuss the retainers cost in advance. If not included in your Invisalign braces treatment cost, you may have to pay an additional £300 to £700.
How Long Does Invisalign Take To Straighten Teeth?
The duration of treatment depends on the level of dental complexity and expectation. For minor corrections, it could be as little as 6 months, but for complex cases, it could go up to 18-24 months. Dr. Daniel Bronsky will examine your condition using 3D scanning and tell you exactly what to expect realistically and how much time it could take to achieve the goal. If you follow the guidelines of wearing Invisalign trays for 22+ hours daily and maintain proper oral hygiene, you can get desired results quicker than the projected treatment duration.
Factors Affecting Treatment Time
In most cases, patients get desired results as per the treatment plan. Following a detailed examination of your dental system, a qualified orthodontist will plan your treatment and accordingly tell you about the number of aligner trays required to achieve the desired goal. Treatment duration varies between 6 months to 24 months, depending on complexity, but here are some of the factors that may increase treatment duration:
Occlusion or Spacing
Invisalign is very effective in treating overbite, under-bite, crowding, and gaps between teeth. The duration of treatment could increase if spacing or crowding is more than average. You should discuss this issue with your dentist, as he could give you the correct time estimation following a detailed examination.
Age
You can get better teeth movement results in less time during growing years as developing jaws and gums allow easier realigning. It is highly effective in straightening the teeth of adults as well, but it takes a little longer.
Treatment Discipline
Aligner trays are custom-designed to create pressure so that teeth could be moved according to the treatment plan. If you are not wearing Invisalign trays for recommended 20-22 hours minimum daily, the treatment could take more than the stipulated time. You have to switch trays as per schedule to get desired results in time. Invisalign gives you the flexibility to remove it as per you're eating or cleaning requirements, but it doesn't mean you could forget wearing it regularly and still expect to achieve results in time.
Frequently Asked Questions [FAQs]
Who is ideal candidate for Invisalign?
Invisalign aligners are custom-designed as per dental structure, complexity, and goals. So, it is suitable for almost everyone who aspires to have a perfect smile with straight teeth. Since it offers the much-needed discreteness and flexibility to remove; it is equally great for all age groups.
Teens: Whether your goal is teeth straightening, or improve the aesthetic appeal of your teeth, Invisalign can help you achieve in just a few months. Unlike traditional braces, which make patients self-conscious, clear aligners are designed to give you the confidence to smile freely with near-invisible aligners. Besides, you have to wear them for a shorter period of time and these are relatively more comfortable to wear.
Adults: Wearing metallic braces could be very challenging for adults as it affects the confidence to smile and talk. Near invisible aligners made of patented plastic formulation helps you achieve remarkable teeth straightening results and no one will even notice.
Invisalign aligners are designed to achieve amazing cosmetic improvisation, but if your teeth need corrective work in the back of your teeth, you should better consult an orthodontist near you to know about the suitability of Invisalign for you or your family member.
Does Insurance Cover Invisalign Treatment?
Insurance companies consider braces treatment, including the Invisalign aligners, as a cosmetic treatment. So, if your dental insurance policy covers traditional braces treatment it will pay for Invisalign as well. However, you should better get in touch with your policy provider to know about Invisalign insurance coverage in the UK. Even if it is covered under the dental insurance policy, most plans will pay for a certain percentage of the overall orthodontic treatment.
In the case of kids, there may be some coverage flexibility, but for adults, there might be additional terms and conditions. In most cases, it is available only for correcting medical or functional dental ailments, not cosmetic improvisation. You can cross-check with our dental clinic to know about available insurance coverage.
Invisalign Monthly Payment Plans
Seeing the growing popularity of Invisalign, particularly among adults for aesthetic improvisation, most reputed dental clinics are offering easy monthly payment plans. So, if you are under budgetary constraints, you should explore monthly payment plans, which dental clinics offer in association with health care financing companies. Even if you are in a position to pay upfront, financial smartness is in paying monthly, especially when the fund is available at zero interest.
All you need to do is consult the clinic, complete financing formalities, and make a down payment to start the treatment. It is gratifying to see your teeth moving and paying accordingly in monthly installments. You should seek a second opinion regarding the treatment plan and cost before you agree to sign the document and don't forget to pay interest rates and additional fees.
How Invisalign Works?
The human dental system is highly complex and interconnected so if at-home aligners look tempting to try, you should better avoid it as any mistake could make your case complicated. Moving teeth needs meticulous planning to get the desired result with maximum comfort, which could be possible only when an experienced orthodontist examines your dental system using an advanced 3D scan and prepares a treatment plan accordingly. Based on diagnosis your orthodontist will let you know about Invisalign suitability, what to expect, and how much time the treatment will take. Once satisfied, the orthodontist will place an order for manufacturing custom aligners.
Once custom-designed Invisalign reaches the destination, your dentist will fix it in your mouth and share all possible information regarding maintenance, frequency of visit to change aligner tray and make adjustments in the treatment plan.
Just like traditional braces, Invisalign also creates a subtle force to move teeth in the desired direction. The dental system works in symmetry, so Invisalign uses this symmetry to create pressure so that teeth could be realigned as per the treatment plan. Moved teeth could relapse, meaning shift back to original position in the early days, so orthodontists recommend wearing retainers.
Who Should You See for Invisalign braces in London?
Dental health is of paramount importance not just for overall health but appearance as well. If you are confused about whether to consult a dentist or orthodontist, you are not alone as many consider them the same. However, the main difference is generalist vs. specialist, both in terms of experience, expertise, and learning. If you are looking to improve your dental aesthetics, an orthodontist is the one who could do justice with the treatment as he is trained to treat dental misalignments and other corrective treatments. All orthodontists are dentists, but all dentists are not orthodontists.
Besides an equivalent Bachelor of Dental Surgery (5 years) degree as a dentist, orthodontists invest additional 3 years to master the art of correcting dental misalignments. If you are looking for an orthodontist in London, UK, you should check the membership of the General Dental Council Registered Specialist in Orthodontics or the British Society of Orthodontists. Dr. Daniel Bronsky, an orthodontist with vast experience, is well known for delivering perfect smile solutions.
Is Invisalign Worth It?
Invisalign, manufactured by US-based Align Technology, is one of the most trusted brands of clear aligners. It costs a little higher as compared to other clear aligners, but if you consider quality, success rate, and comfort, it is worth it. Under the supervision of a qualified orthodontist like Dr. Daniel Bronsky, you can correct almost all types of teeth and jaw issues.
Some orthodontists recommend lingual braces to straighten teeth discreetly, but Invisalign can help you achieve remarkable straighten with maximum comfort at less cost. Most importantly, Invisalign is custom-designed in state-of-art labs to ensure perfect fitting, so you are free of worries of speech impairment caused by lingual braces. Lingual braces need frequent visits to the dentist for readjustments, whereas Invisalign requires fewer visits. You save time, money, and energy with Invisalign.
Remember, Straight Teeth Are More than Just Appearance
Your smile can help you win the world, so why live with misaligned teeth when you can straighten them using clear aligners like Invisalign. Braces can help you achieve teeth straightening goals, but the visibility of metal wires and brackets can make you self-conscious. You can transform your smile in just a few months, and no one will notice it happening with Invisalign aligners. Besides a straight smile, straight teeth give you something more, like:
Improves Self-Confidence
Every moment is precious, so delaying orthodontic treatments because 'metal mouth' appearance affects your confidence is not a smart move. Now you have the option of Invisalign clear aligners to straighten teeth, and no one will notice you wearing aligners. Made of high-quality plastic, it is almost invisible to casual observers, so you won't feel self-conscious. In just a few weeks, you will see the transformation happening as treatment progresses from one tray to the next during the treatment. By the time treatment gets over, you will have healthy and straight teeth to smile with confidence.
Better Oral Health
Visualizing the challenge of oral hygiene with traditional braces, the maker of Invisalign aligners made them removable so that users could remove them for brushing, flossing, and of course, eating. It is pretty easy to remove and put back, but you should wear them for at least 22+ hours daily to get the desired result in the minimum possible time.
A Healthier Smile…and Body
Straight teeth make your smile straight and you know how it boosts the appearance. In just a few months you can see your smile transforming, but there are several other health benefits of straight teeth. If your teeth are not in alignment or crowded, it could cause bite issues and other health problems like jaw pain, tooth grinding, gum disease, and gum recession. With Invisalign aligners, you can straighten your misaligned teeth in the simplest possible way, without affecting your appearance.
Invisalign Review by Our Patient from London
Frankly, my teeth used to make me under confident as they were highly misaligned, particularly front teeth. Wearing those wires and brackets of traditional braces was not possible for professional reasons. Thanks to Invisalign's discreet teeth-straightening solution, it not only aligned my teeth in just a few months but corrected my overbite issue. Since it was near invisible and removable, I could get a straight smile with maximum comfort. I would recommend it to all who want to improvise a smile without the metal-mouth appearance.
Special thanks to Dr. Daniel Bronsky of who made it possible for me to achieve my teeth straightening goal in the minimum possible time. I must say the whole team of Invis London is of exceptional grade, as dental aesthetic improvisation needs patience and close monitoring.
My First Appointment
It all began with a long and informative discussion about the suitability of Invisalign aligners in Invis London's Queen Anne Street dental clinic for correcting misalignments. Thanks to technological advancements made in dental treatments, orthodontists used a 3D digital scanner called iTreo to take hundreds of images to recreate a 3D model of the dental system. Based on scanning and modelling, Dr. Daniel Bronsky prepared my treatment plan. Most importantly, I could see what will get at the end of the treatment.
Wearing Aligners
It took almost 2 weeks to get my Invisalign, custom-designed in the state-of-art lab of Align Technology, delivered at the clinic. I received a call from the clinic to collect my first 2 sets of clear aligners. I started wearing it as told by Dr. Daniel Bronsky and I could feel the subtle pressure exerted by Invisalign to move teeth gradually. For precision alignment, the orthodontist bonded teeth-coloured markers on certain teeth so that the aligner could grip better on teeth. I was told to follow these instructions for speedy results:
Wear aligners for at least 22 hours a day. However, I wore them for less than 20 hours due to professional compulsions, but still, I achieved remarkable results in the specified time.
For a better look, I was told to remove them every time while eating or drinking too hot or too cold items.
Remove it before brushing and flossing.
Clean the aligners as and when you feel free using a suitable cleaning agent.
How painful is Invisalign?
I was told in advance that patients feel a little uncomfortable in the early days, which is very natural when one keeps foreign objects in the mouth. In my case, it was not as uncomfortable as was shared in some of the reviews. Yes, there was a minor speech impairment, but it became normal in a few days. Moving from one aligner to the next used to trigger a feeling of tightness. In the early weeks I used to pop paracetamol to curb discomfort.
How long does it take for Invisalign to work?
Since my teeth misalignment was of moderate complexity level, Dr. Daniel Bronsky prepared a treatment plan with 20 sets of aligner trays. I was told to wear each set for 2-3 weeks, so I was supposed to wear aligners for 50-60 weeks. To my surprise, I could see the transformation happening in just 20 weeks. It was a good motivation to follow instructions to get desired results in the stipulated 12-month treatment period.
Invisalign Treatment Process: A Closer Look
Now, you are aware of the advantages and challenges of Invisalign treatment. You can join the league of over 9 million who are smiling with confidence after successful Invisalign treatment. The popularity of Invisalign is not just because of the high success rate and invisibility, but the procedural simplicity. Depending on the level of dental complexity and expectation, the procedure might change slightly, but in the majority of the case this step-by-step process is followed to bring misaligned teeth in perfect alignment:
Initial Consultation
It all begins with your decision to make your smile straight. Once decided, all you need to do is book an appointment with a reputed orthodontist, like Dr. Daniel Bronsky at Invis London dental clinic, and know about the Invisalign treatment procedure, how it works, and what kind of smile transformation could be achieved. The initial consultation is crucial as you will need all possible information to choose suitable treatment and arrange finance accordingly.
Diagnosis and Mapping Using X-Ray
Most orthodontists begin the treatment by taking several x-rays of your dental system from all angles during the initial consultation. Depending on the primary diagnosis, the suitability of Invisalign is determined. This step is very crucial as detailed mapping of mouth mapping equips the orthodontist with the necessary information to plan treatment.
In some cases, a lateral cephalometric x-ray might be required to know about the relationship between cheek and jawbone, so that teeth movement could be planned as per available spacing. Your orthodontist might take the impression of your teeth to custom-design Invisalign aligners.
3D Digital Scan of Teeth
Dental treatment could be stressful for many and many suffer from phobia. Thanks to technological advancement made in recent decades, especially with Invisalign treatment, the dental diagnosis and treatment is more comfortable. The Invisalign treatment involves taking 3D images of teeth using iTero Flex scanner of Align Technology. So, you are free of stress from messy moulds. Based on the 3D scanning orthodontist set up 3D treatment plan, to show patient treatment progress and post treatment look.
Preparatory Work
Since the treatment is all about creating subtle pressure to move teeth in the desired direction, aligners need a proper grip to move teeth effectively. If your teeth are highly crooked, your orthodontist might bond composite patched on each tooth for proper gripping. The need for patches depends on your dental structure, so it might not be required. These are made of high-quality composite material, which is removed easily post-treatment.
In some cases of crowded mouth, orthodontists might need to create enough space between teeth to allow calculated teeth movement. The process involves the removal of some enamel using discs to create space for teeth movement.
First Fitting
The 3D imaging gives you a detailed picture of how Invisalign treatment will proceed and what to expect at the end of the treatment. Following the approval of both patient and orthodontist, aligners are custom designed in the robotic facility of Align Technology. It normally takes two weeks to design and ship aligners. The number of aligners required to achieve the desired teeth straightening goal depends on your dental complexity, which could be anything between 20 and 36. In some cases, the number could be higher.
Once aligners reach the dental clinic, you will get the call so that the first tray could be fitted. Your orthodontist will show you how to wear, remove, clean, and instruct you to change trays as per the treatment plan.
If your case requires better gripping, the orthodontist might place small attachments of matching colour. These are removed later during the treatment. A little discomfort is natural, but if pain persists for long, you should consult your orthodontist as it might need some adjustments to make you feel comfortable.
Changes to Your Mouth
Invisalign aligners are designed to create pressure to correct teeth alignment, so the core purpose is to change the shape of your dental system. This corrective movement of teeth is bound to create some strange feeling. The building of a little bit of stress in the mouth is a sign that the aligner is doing its job perfectly. Although it cannot be termed as a side-effect, if you feel excessive discomfort you can seek an orthodontist's intervention to adjust it for comfort. The feeling of stress is natural and it subsides in a few days, after every tray change.
Some Invisalign wearers report dental sensitivity. Dr. Daniel Bronsky of Invis London will recommend some toothpaste to control sensitivity during the treatment period. The presence of a foreign object in your mouth could affect your speech. This happens because your tongue doesn't get the required space to modulate speech. Most users report normalization of speech in a few weeks, as wearing them for 22+ hours help in adjusting speech quickly.
Changing Your Invisalign Aligners
Your orthodontist will recommend changing aligner trays every one or two weeks depending on your dental complexity and treatment goal. Since the treatment is all about moving teeth gradually using subtle force, your orthodontist might change the tray-changing frequency to speed up the movement.
A team of experts at Invis London, under the supervision of Dr. Daniel Bronsky, will monitor the progress of teeth and suggest changing trays as per the treatment plan. Ideally, you should remain in touch you're your expert as you might need a course correction. If you are outstation, it is better to call the expert to seek advice and change the tray accordingly.
How to Clean and Care for Aligners
You have opted for Invisalign aligners to bring misaligned teeth in alignment for its invisibility. Although these are designed using high-quality plastic, you have to have a cleaning-guideline to maintain the invisibility. The use of prohibited food and drink items and bad oral hygiene could affect the transparency of your Invisalign clear aligners.
You know how valuable it is to smile with confidence, so the device that is working 24×7 to make your smile straight will need necessary care. It works perfectly, but only when you allow them to do the job in a good environment. If you want to see smile transformation happening in the stipulated time, then follow aligner cleaning guidelines.
Cleaning Your Invisalign Retainer
Invisalign aligners are designed to offer comfortable teeth straightening and you can achieve your goal by following the treatment plan, which includes proper care of the aligner. It is easy to keep your Invisalign aligners clean, as it takes just a few minutes. Make it part of your regular oral care regimen, and clean your aligner using toothpaste, aligner brush, and a denture cleaner. Here are some simple steps to follow for Invisalign cleaning:
Dip your Invisalign aligner in lukewarm water.
Now take your regular or aligner brush, apply toothpaste, and start brushing gently, both inside and outside of the aligner, using a small circular motion. Once done, rinse it again in lukewarm water.
If you see deposition of cloudy white film, which could be calcium deposit, on aligner trays, then you have to clean it using the recommended aligner cleaning solution. It is always better to have a specially designed Invisalign Cleaning System to keep them in good condition.
That's all; your aligner is now clean and ready to restart doing its straightening job.
Proper Care Techniques
Invisalign is in your mouth to move teeth as per the treatment plan and you will get the expected result without pain if you follow the aligner care technique properly. Frankly, there is no rocket science involved in Invisalign care and cleaning. All you need to do is clean your Invisalign daily as you clean your teeth using a brush and toothpaste.
Invisalign aligners are designed to offer you the flexibility to remove as per you're eating and cleaning requirements. Follow eating and cleaning guidelines religiously to help the aligner do the straightening work. If food particles are stuck in your tooth, it might cause an infection resulting in pain and discomfort. So, cleaning the aligner and teeth is crucial for desired smile transformation, but you should avoid using a cleansing solution with harsh chemicals as it could cause discoloration.
You should not rinse Invisalign aligners in mouthwash as it could absorb colour from the mouthwash and make your clear aligner colourful. Always use lukewarm water, as too hot or too cold water could distort the shape of the custom-designed aligner.
Moving to the Next Set of Aligners
You have to move to the next aligner every one or two weeks depending on your treatment plan. Since the procedure involves moving one tooth at a time; you might have to wear an old aligner to get better alignment. So, when moving to the next aligner tray, clean it using a recommended cleansing agent to keep it safe in a bacteria-free case.
No Restriction, Just Eat Anything
Unlike other teeth straightening treatments, there are no dietary restrictions with Invisalign aligners. Just remove your aligner before the meal and enjoy eating whatever you have with your natural teeth. Don't forget to clean your teeth properly before putting the aligner back in your mouth.
Moving teeth look simple with Invisalign, but it involves intricate biomechanical adjustment. So, you should eat mineral and Vitamin D-rich eggs to boost calcium absorption.
It is good to start your day with vegetable and fruit smoothies to keep you full and energized. The urge for food will be less, so you won't have to remove the aligner again and again.
Replace crunchy cereals with oats and grains, as it lowers blood cholesterol.
Easy to consume soups are good for all types of braces treatment, so consume it more, but avoid consuming it when it is too hot.
Your teeth are moving, so it is better to avoid hard food. Mashed potato and meatloaf are good options for dynamic teeth.
For a change, you can try easy to bite noodles but avoid anything that puts extra pressure on your teeth.
You can make calcium rich yogurt and cheese part of your regular diet to boost the stability of teeth.
It is better to start eating steamed vegetables to avoid any chance of relapse.
Avoid drinking wine, coffee, tea, or any food with added colour while wearing Invisalign aligners. Smoking with an aligner is complete no, as it distorts the shape and discolours plastic material easily.
A Word from Invis London
Invisalign aligners are unquestionably the best possible orthodontic treatment to straighten a smile, without the mental stress of self-conscious metal-mouth. Over 9 million people achieved remarkable teeth straightening results, and you can also get a perfectly straight smile. Just follow the treatment guidelines and maintain oral hygiene to let aligner trays move your teeth in the desired direction. Keep your aligners clean and avoid using anything that could distort the shape of the aligner.
Bottom Line: What to Expect
You are unique so is your dental symmetry. You can straighten your smile with a clear aligner like Invisalign, but the teeth movement plan should be according to your facial symmetry. Dr. Daniel Bronsky can help you achieve a perfect smile with realistic expectations. This is possible because of the highly advanced 3D scanning, which makes it possible for Dr. Bronsky to show you the treatment plan and gradual progression. It is all about aesthetic improvisation, so a detailed examination of the face, teeth, bite, and jaw is done to ensure a comfortable treatment journey. Don't forget to discuss easy financing options, as there are several financing options to add one more reason to make your smile great.