Treatable cases | Candidates | Working mechanism | Pros and cons | Cost | Living with braces | Aftercare | Side effects
Clear Fixed Ceramic Braces London: Planning to straighten your misaligned, crooked, or overcrowded teeth, but want to achieve your goal without compromising the aesthetics. We at Invis London offers Ceramic braces solution with clear brackets and tooth-colored wires. Ceramic braces in London are people's choice for the best possible orthodontic treatment to straighten a smile without the mental stress of self-consciousness. It is the same as traditional metal braces in terms of effectiveness, but less noticeable while repositioning your teeth. Unlike removable clear aligners, which one could lose, ceramic braces are bonded on the front of the teeth so you are free of the concern of missing expensive aligners. However, the discreteness comes with the additional load of care and protection. The ceramic braces treatment requires precision, so you should consult only an experienced orthodontist like Dr. Daniel Bronsky at Invis London clinic in Queen Anne Street, Marylebone, London. Dr. Bronsky could help you get a perfect smile with maximum comfort.
Treatable Cases by Ceramic Braces
Technically speaking, the core principle of ceramic braces treatment is the same as the metal braces. Instead of noticeable metal wires and brackets, tooth-colored or clear brackets are bonded on the front of the teeth affixed to the teeth and connected using a flexible archwire. The treatment involves regular adjustment and tightening of the wire to move teeth as per the treatment plan.
Just like metal braces, ceramic braces are highly effective in correcting almost all types of orthodontic conditions. Whether it is misalignment, crooked or crowded teeth, bite issues, or teeth gaps, you can get quality corrective results with ceramic braces. However, the quality of the outcome depends on the expertise of your orthodontist as each complication requires meticulous planning and execution. So, you should consult only an orthodontist with a track record of delivering amazing smile solutions.
The duration of the treatment could vary depending on dental complexity and of course the expectation. So, you should discuss all possible aspects and prepare yourself for the long journey.
Who is eligible for ceramic braces treatment?
Ceramic braces treatment is equally great for everyone. Since the treatment is all about creating subtle pressure to move teeth, it is good for children above 6 years of age. For those concerned about aesthetics, particularly teenagers and adults, it is a great option as it offers much-needed discreteness at much less cost. Dental professionals of Invis London will first examine your dental system and recommend ceramic braces according to your dental complexity. Duration of treatment varies depending on the complexity level, but Dr. Daniel Bronsky can help you get desired results in less time.
Who is not an ideal candidate?
It is one of the most preferred teeth straightening treatments as it is a comfortable, efficient aesthetic. It is known for delivering quality orthodontic improvisation for all age groups. However, better results could be achieved in a shorter time, if the patient is in growing age.
How do ceramic braces work?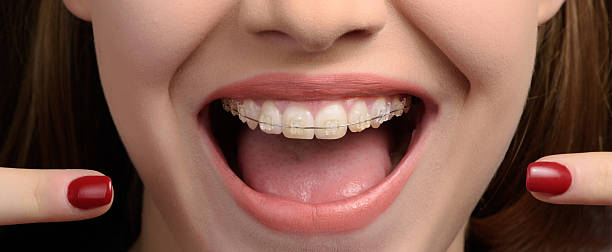 It is a fact that everyone wants to have a perfect smile, but many people avoid orthodontic treatment because of the metal-mouth appearance. If you are one among them, ceramic braces treatment is for you to get straight teeth without affecting your confidence. The treatment requires a detailed examination of dental structure and treatment planning, so only an experienced dentist could deliver the desired result effectively.
Experienced dentist at Invis London dental clinic in Queen Anne Street, Marylebone fit ceramic braces using metal archwire and ligature—an elastic band to hold archwire. Depending on the need, the archwire could be replaced with a silver one.
Normally, it takes around 30 minutes to bond the ceramic braces on the front teeth.
The treatment requires tightening of the ligature every six weeks so that appropriate pressure could be created to move teeth as per the treatment plan.
Your dentist will change tooth-colored ligatures every time during braces adjustment.
The treatment, just like traditional metal braces or invisible braces, involves creating subtle pressure using ceramic braces to move teeth gradually. Dr. Daniel Bronsky from Invis London can help you correct overcrowding, crossbite, underbite, and open bite issues with ceramic braces efficiently in just a few months. By the time you stop wearing ceramic braces, you will get a transformed smile to woo the world.
Pros and cons of Ceramic Braces
Your decision to straighten teeth is commendable as you are one among those few who understand the value of a straight smile. Bringing misaligned teeth in alignment takes time, so you will need confidence and commitment before you start wearing braces. Here are some pros and cons of ceramic braces to help you choose better:
Pros:
When it comes to aesthetics it is far better than traditional metal braces as it is less visible. The ceramic material used for making these braces can either be tooth-colored or clear.
Compared to clear aligners, it shifts teeth quicker. With ceramic braces, you can straighten teeth in 18 to 36 months depending on the complexity level.
Unlike popular clear aligners, it is highly effective in treating even severe cases of malocclusion of teeth.
It gives you the freedom to choose a color, which isn't possible with metal braces.
Metal braces will naturally interfere with imaging, whereas ceramic braces help in taking clear images.
Thanks to advancements made in orthodontic technology, ceramic braces won't affect your natural enamel as brackets are bonded on the teeth surface using the highest grade bonding material.
Invis London uses high-quality bonding agents to prevent color change during the treatment.
Cons:
Well, the discreteness comes at some additional cost. So, you have to pay a little more for ceramic braces.
Just like metal braces or clear aligners, it could cause gum sensitivity.
Ceramic brackets are by design a little larger than traditional metal brackets, so they could make teeth cleaning difficult, thus causing gum swelling or receding gums.
When it comes to durability ceramic braces are less durable than metal.
If an orthodontist isn't experienced, the removal of the bonding agent could damage the natural enamel.
The fragility makes it a little less effective for severe cases as excessive ligament tightening could break brackets, thus prolonging the treatment.
In absence of proper care, it could stain and remain so until replaced.
Removal is critical, so you should consult only experienced orthodontists like Dr. Daniel Bronsky of Invis London.
Just like metal braces, ceramic braces may also cause white calcification. However, with Invis London you can expect minimum calcification on the teeth surface.
Ceramic Braces Cost
Ceramic braces cost more than metal braces but how much does it cost in the UK? Your orthodontist will give you the exact cost of ceramic braces treatment in London, UK, but it is a worthy investment if you want to get a straight smile without the mental stress of horrible-looking wires and brackets.
The cost of ceramic braces in London, UK could vary between £3,000 and £7,000. The cost will depend on your dental complexity, treatment duration, and of course, the experience of the dentist and the location of the clinic.
Invis London offers you the experienced orthodontist, the best brands of ceramic braces, and the option of self-ligating brackets at a highly competitive cost.
Since the cost could vary, it is better to get quotes from 2-3 dental clinics, so that you could choose the best in the budget.
Braces treatment is provided under the NHS in the UK, but only metal braces that too only for patients below 18 years and in some cases adults, only if s/he fulfills strict eligibility conditions. Unfortunately, most of the orthodontic aesthetic improvisation treatments are not available under the NHS. So, if you are planning to get straight teeth using ceramic braces you have to pay from your pocket. Thanks to intense competition, you can get attractive deals and financing options.
How Are Ceramic Braces Put on?
The basics of braces: Just like metal braces treatment, ceramic braces treatment is also all about creating subtle pressure using biomechanics to move teeth over a period of time. The treatment procedure, which involves attaching braces, progressive adjustments, and removal, is the same as the metal brace treatment. It is the material, i.e. ceramic, that gives it an aesthetic edge over metal braces. Dr. Daniel Bronsky of Invis London will explain all possible aspects in detail during the initial consultation so that you could be mentally ready to start the treatment with confidence.
Preparation
The outcome of the orthodontic treatments depends on the suitability of the treatment and of course the expertise of the dental professional. At Invis London it all begins with the examination of your dental system so that suitable treatment could be suggested. If you are eligible for the ceramic braces treatment, you will be invited for preparation to ensure easy and effective fitting of braces. The preparation phase includes regular cleaning, cavity filling, or any pre-treatment care to avoid discomfort.
Although not a part of ceramic braces treatment, healthy dental care ensures a better start of the braces treatment. Besides dental care, you should make sure there is enough stock of soft and easy-to-eat food items in your home, as you have to avoid eating hard, chewy, or crunchy food items. Dentists recommend soft foods like soup, yogurt, bananas, and protein shakes for nutrition balance in the early days. The presence of a foreign object could cause irritation, so it is better to buy orthodontic wax in advance to protect gums and lips from irritation.
Once satisfied with the dental health, your orthodontist will fit ceramic braces on the surface of your teeth.
The procedure is non-invasive, so it will take less than 30 minutes to fit braces. Once done, just follow treatment instructions to avoid damage and infection, and visit your dental clinic to get braces adjusted at regular intervals to get straight teeth in the stipulated time.
Removal of Braces
Your orthodontist will keep on making adjusting braces as the treatment progresses to achieve the desired result in time with minimum discomfort. Once satisfied with the teeth repositioning outcome, your dentist will remove braces. The removal procedure is pretty simple and painless.
Your orthodontist will remove elastic ties and wires first, as done during each readjustment session. The critical part is the removal of the bonding agent as it requires the application of some force. At Invis London, dental professionals take extra care while removing adhesive bonds as it could damage natural enamel. If some adhesive remains on the teeth surface, the dentist could remove them using a dental handpiece.
The removal of ceramic braces may cause some inflammation. It subsides naturally in a few days, but if it persists you should consult the dentist for some medication. You should maintain your regular oral care regimen to keep your gums and teeth healthy.
There are chances of shifting back of repositioned teeth, so your orthodontist will recommend wearing retainers to avoid relapse. You should wear retainers for the prescribed period to keep your teeth in the right position forever.
How to care for ceramic braces during The Treatment
Fashion-conscious people, particularly youngsters and adults, are opting for ceramic braces to straighten misaligned teeth or correct bite issues. It is undoubtedly a better option to make a smile perfect aesthetically, but you will get desired results only when you take proper care during the treatment. Here are what ceramic braces wearer should do to get quality results in the minimum possible time:
Brush Teeth Twice Daily
If you want your ceramic braces to do the job perfectly, you have to maintain good oral hygiene. Although your morning brushing is enough for healthy teeth, during treatment oral care hygienists recommend brushing twice a day. This is to ensure the removal of any food particles stuck between teeth, brackets, and wires. If food particles remain stuck for long it could cause staining of your braces.
Floss Teeth Once
If you feel brushing isn't enough to remove debris, then you should floss teeth at least once a day. Ideally, one should floss teeth after dinner to keep teeth perfectly clean. Your regular floss might not work with braces, so you should ask your dentist to recommend a suitable floss brand to keep the exercise simple.
Avoid Stain Causing Foods
You have opted for ceramic for its aesthetic advantages, so why make it dull by eating food and drinks that can cause staining. Many people find it hard to avoid such foods, so they should rinse their mouths every time after consuming stain-causing food and drinks. Besides staining, you have to avoid hard food at least in the early days to avoid damage to ceramic braces. Orthodontists recommend eating soft food, so change your food habit during the treatment period.
What to Do After Ceramic Braces Treatment
Ceramic is highly effective in moving teeth with comfort, but it takes time for newly moved teeth to stabilize in the new position. To keep the repositioned teeth in the new position, orthodontists recommend wearing retainers after the ceramic braces treatment. It is not just about moving the teeth but keeping them in the right place to avoid relapse. Why take risk of relapse, when you could keep your teeth in perfect shape forever by wearing a retainer for a few months.
Ceramic Braces Alternatives
Thanks to the advancement made in orthodontic treatment technology, now you have several different types of braces treatments to straighten your smile with maximum comfort. Unlike the visible metal braces of the past, now you have many discreet options like ceramic braces, lingual braces, and Invisalign aligners. All are great, but orthodontists at Invis London will recommend the best according to the complexity of your dental system and treatment expectation. Depending on your aesthetic preference and fund availability, you can choose any of these four types of braces.
Metal Braces
Ceramic Braces
Lingual Braces
Clear Aligners
Metal Braces
Traditional metal braces are highly effective in correcting even the severe teeth misalignments and dental structure-related issues like cross/under/overbites, teeth spacing, etc. It is known for generating powerful force to shift in the desired direction, but excessive force causes discomfort. An experienced orthodontist can lessen the discomfort, but oral care difficulties make it challenging to achieve desired teeth straightening results in time. Although the new heat-activated archwires, which utilize body-heat to move teeth, have reduced the level of discomfort, the visibility of wires and brackets is still a big challenge to overcome. It is the cheapest possible teeth-straightening solution, but visibility is pushing appearance-conscious youngsters and adults towards discreet options.
Lingual Braces
For those hyper-conscious of the visibility of the braces, lingual braces are a good option as these are placed on the back of teeth. Made of high-grade metal, orthodontists recommend lingual braces to those looking for a discreet teeth-straightening solution. You can get quality results with lingual braces, but they will interfere with the speech more than traditional metal and ceramic braces. Lisping lasts for just a few days, but the treatment cost is significantly more as compared to metal braces.
Clear Aligners
Clear aligners, like Invisalign, are an excellent alternative to traditional braces to make your smile straight without the distress of self-consciousness. Although Invisalign is designed to correct moderate misalignments, Dr. Daniel Bronsky of Invis London can help you correct even the complex teeth misalignment with Invisalign. Unlike the traditional metal or lingual braces, you are free of the worries of rubber bands, brackets, or archwires with Invisalign. Just wear these custom-designed clear aligners, made of high-quality plastic material, as per the treatment plan, and remove them as per your cleaning and eating need. Most importantly, it is aesthetically pleasing and your natural enamel remains untouched. The cost of Invisalign aligners could be in the range of £2000 to £8000, depending on complexity and expectation.
Financing Options
If your health insurance pays for orthodontia, then your ceramic braces treatment will get paid by the insurer the same way as they cover metal braces. However, you should be careful about the full treatment cost coverage, as most insurers pay just a certain percentage of the treatment cost. So, if your dental insurance pays a percentage or fixed amount towards orthodontic treatments, you have to manage the rest of the fund.
In the UK, you can get braces treatment under the NHS, but there are strict eligibility criteria to fulfill. You can get metal braces, not the ceramic braces, under the NHS, but only for kids and in some cases adults with medical conditions. Since it is considered cosmetic improvisation, not a critical health condition, the NHS facilitates braces treatment only in exceptional circumstances.
Thanks to increasing popularity of orthodontic improvisations, now most dental clinics in London, including Invis London offer attractive interest free financing options with interest-free monthly payment options. You should discuss financing options with your clinic and inquire about interest rates and hidden costs, before you sign the document.
Alternatively, you can use your credit card to pay the treatment cost and break the repayment in installments to have a perfect smile with minimum financial stress.
Ceramic Braces Side Effects
The teeth straightening process requires the application of subtle pressure over a period of time. So, pressure and resulting repositioning cannot be termed as side-effects. In some cases, the teeth' movement could cause some irritation and pain. Although it subsides in a few days if it sustains you should inform your dentist to seek suitable medication. In most cases, gum inflammation is because of bad oral care, so you should maintain standard oral hygiene to keep infection away.
FAQs about Ceramic Braces
Aiming to make your smile straight, but not sure which treatment to choose as all sounds promising? Here are some of the most frequently asked questions with answers to help you decide better:
Do ceramic braces go yellow?
The answer is "Yes". No matter which brand you choose, if you are not following standard oral hygiene, the ceramic material is bound to stain. Brackets are less susceptible to staining, but elastic ligatures stain easily if exposed to foods with strong tanning ingredients. If you want to keep your ceramic braces crystal clear you should avoid these foods and beverages:
Tea & Coffee
Curry with coloring agents
Pasta sauce
Beets
Red wine
Most importantly, smoking or chewing tobacco could make your braces yellowish, making your braces visible to onlookers. The orthodontist will replace elastic ligatures every six weeks, but you should maintain the highest possible oral care standards to avoid staining.
Can clear braces fix overbite?
The top set of teeth naturally protrudes over lower teeth, but when this protrusion is more than average it affects the natural bite. This orthodontic issue, called overbite, can be corrected with ceramic braces. Not just overbite, but other similar issues like a crossbite, under-bite, over-jets, and spacing can also be effectively corrected with ceramic braces. However, the outcome of the treatment depends on the expertise of dental professionals, so choose your orthodontist wisely.
What are clear braces made of?
The material used for manufacturing clear aligners varies from brand to brand. Invisalign, one of the most popular clear aligner brands, uses a high-quality plastic material to custom design aligners. Some manufacturers use tooth-colored composite resin to design composite braces. However, these are relatively less durable compared to other clear braces.
Can you put braces on bottom teeth only?
Frankly, it is mostly used for upper teeth, but an experienced orthodontist can use it effectively to reposition misaligned both upper and lower teeth. If some cases of severe deformity, orthodontists recommend traditional braces as treatment might require rotation and maximum force to move teeth.
Are ceramic braces noticeable?
Ceramic braces came into existence to overcome the challenge of visibility of metal wires and brackets of traditional metal braces. Tooth-colored or clean ceramic material is used for designing braces so that it could blend with the natural color of teeth, thus making it less noticeable. The discreteness depends on how effectively you control staining. You can consider clear aligners, like Invisalign, if you want to get straight teeth more discreetly.
How often should you see your orthodontist after braces?
The answer is every four to eight weeks. Moving teeth is highly complex and requires meticulous planning and execution. You have to visit your dentist to check the progress, so that s/he could make adjustments as per the treatment plan. Besides course correction, your dentist will make sure your teeth and gums remain free of any infection for speedy treatment. The presence of a foreign object in the mouth could create some discomfort; a regular visit to the dentist will keep you away from any chance of infection.
Living with ceramic braces
Well, some kind of adjustments will be required while playing an instrument or participating in contact sports. But, it won't affect your regular school activities. Your braces might affect your speech in the early days, so be smart in choosing when to speak. If you can't resist playing contact sports for a few days, you should better wear a mouth guard to protect your braces.
Sources: